MMA,Kick Boxing, Muay Thai & Other Sport's Competition
in

Virginia
Mix It Up Sports LLC., is a family-friendly organization that unites a multitude of events to entertain the sports lovers in Virginia. We organize sports events and also host events at schools.
Mix It Up Sports "LLC" Was
Formed in 2013
We allow a variety of disciplines to showcase their skills in a cage, ring, or mat. We specialize in bringing different sports into one event.
Mix It Up Sports 'LLC' on Facebook
Mix it Up Sports "LLC" The eloquent and elite of extreme sports competition. Remember good things comes to those who MIX IT UP.
Often Imitated, Never Duplicated. Many people attempt to copy something, but their efforts never match the original.
                 Effective April 1st Only 2 cornerman per team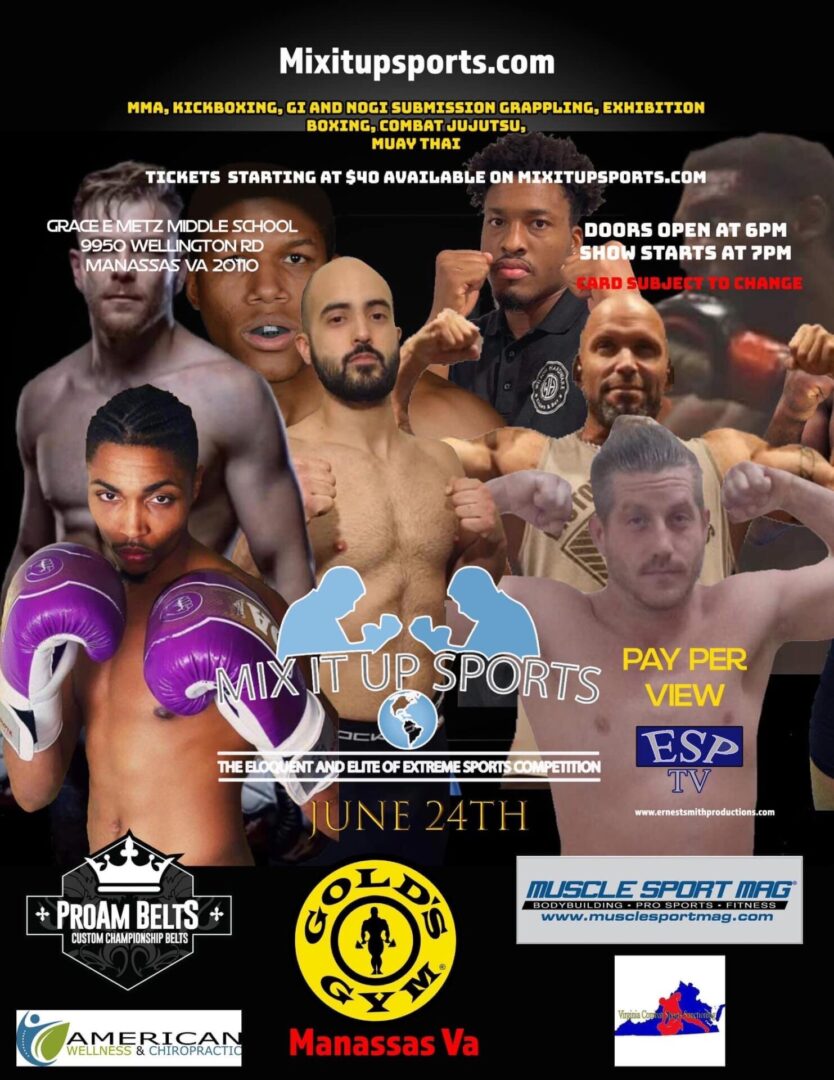 wwwmixitupsportscom.ticketleap.com/mix-it-up-sports-presents-june-24-mma-kickboxing-and-more/         
June 24
MMA      KICKBOXING   SUBMISSION GRAPPLING     MUAY THAI   Exhibition Boxing
Alex Ruthless HW Kickboximg/ Muay Thai  2 smokers
Rehan IIyas HW  KICKBOXING TITLE DEFENSE
140 Aero Jackson 15 years old 3 scrimmages
Charles Cross 205-220 Exhibition Boxing
170 MMA 0-1 Mitchell Peck or Exhibition Boxing
205 MMA Dshawn Dexter 0-0
205 MMA Edwin Francois 3-2
Lucas Schaech Purple Belt 205 Combat Jiujitsu
Exhibition Boxing Jackson Quin 195-220
125 MMA Damion W. 0-0
132 Female Muay Thai Mayah Pedigo 1-1
155 Muay Thai Aleksandar Pavicevic
167 lbs Glory Rules kickboxing Jordan Saunders. 1-1 VS Caleb Webb 0-2
175 Muay Thai Vincenzo Corvetto 0-0 VS Carson Ruth 0-0
110 Female Muay Thai Lauren Archer 0-1 VS Maria Abiera
170 Kickboxing L.H. 4-0
HW MMA Franklin Jones 1-1
F.P. 135 MMA
185 MMA  O. M. 0-3
155 MMA Charlie tree Monkey Jenkins 0-1 VS Jose Martinez 2-2
Mychael Deal 185 MMA 2-5
205 Kickboxing  2-2 L. S.
A.G. 125 Exhibition Boxing
C.B. Amateur Wrestling 170 lbs 6 years
E.F.  Exhibition Boxing or Wrestling 170lbs
165 Combat Jiujitsu Charlie McCloskey Vs Jack Reggio
Jake Atwell VS Dimitri Yakovlev
Brady Payne VS Ronnie Disse United States Title
Mix It Up Sports Club days subject to change.
MIX IT UP SPORTS CLUB AT GRACE E. METZ MIDDLE SCHOOL 9950 WELLINGTON ROAD MANASSAS VA 20110
All Mix It Up Sports "Amateur Events" , portion of the funds goes towards the Mix It Up Sports Club
 START DATE 11/10/22 6pm-7:20 pm Arrive by 5:45 Dates and Days will be updated daily/or weekly.
MIX IT UP SPORTS CLUB 2023 TRAINING DATES Subject to change
NEW CLUB DATES COMING SOON
What is needed
Wrestling shoes, Head gear, Jock strap aka Cup, Water bottle, change of clothes, shorts , sweat pants, towel, Shirt. Clip your finger nails, no jewelry. Note book, writing utensils.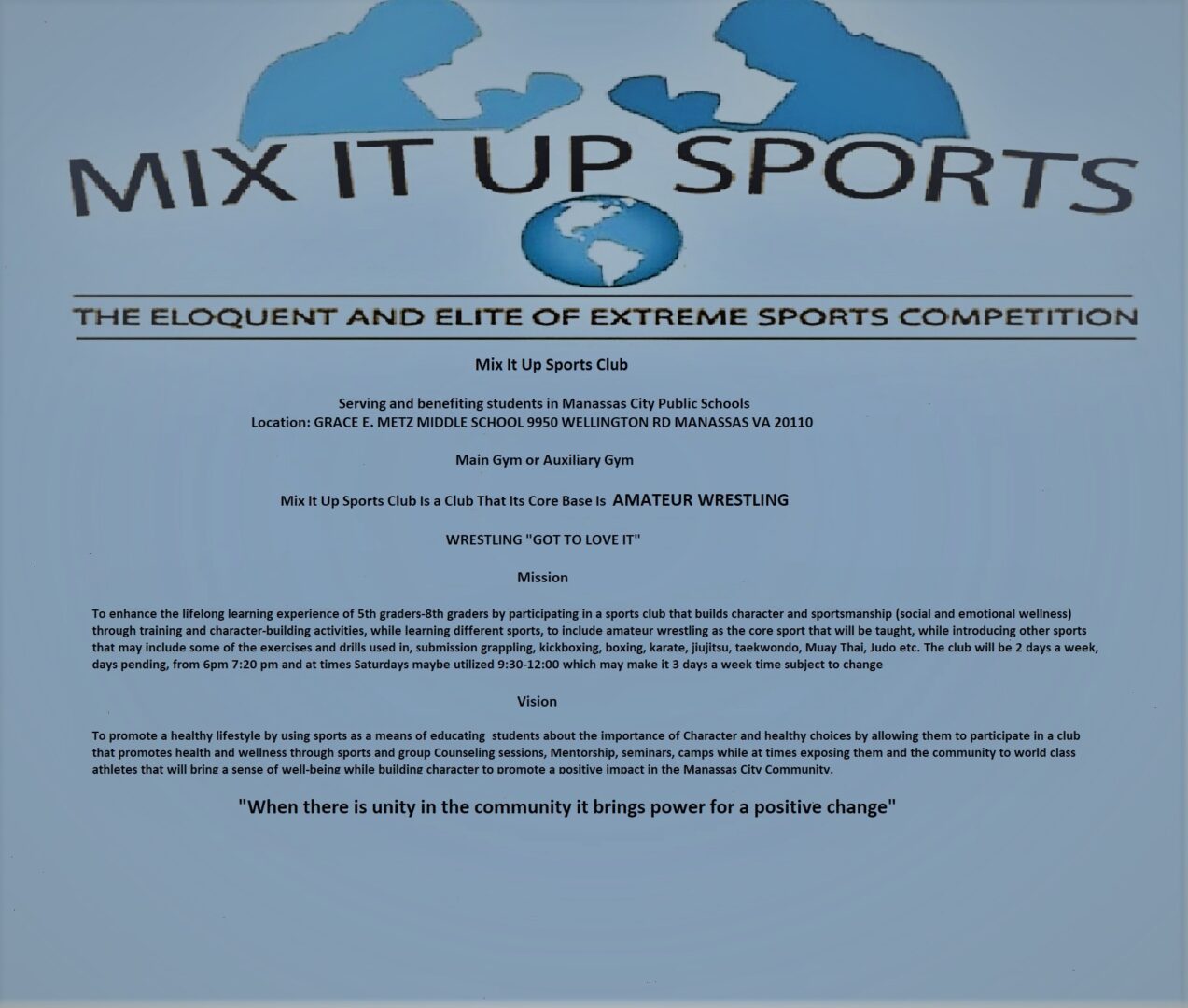 MIX IT UP SPORTS CLUB AT GRACE E. METZ MIDDLE SCHOOL IN MANASSAS VA 20110
TIm Tibbs Owner and Founder of Mix It Up Sports "LLC"
www.mixitupsports.com
Wrestling Coach M.Ed-Counseling, BS Health-Physical Education-Recreation-Dance MMA Please contact Tim Tibbs Email: [email protected] [email protected]
M.Ed. COUNSELING (VIRGINIA STATE UNIVERSITY) BS, HEALTH PHYSICAL EDUCATION, RECREATION AND DANCE (VIRGINIA STATE UNIVERSITY) Fitness Trainer Assistant Coordinator for VSU 4 years Vocational Education Special Education Outstanding Services Outstanding Services, Student Activities, Fitness Trainer Assistant Coordinator (VIRGINIA STATE UNIVERSITY) Featured in Muscle Sport magazine *Featured in USA WRESTLING MAGAZINE TWICE *HIGH SCHOOL ALL AMERICAN (HONORABLE MENTION) *3 Time Virginia State Champion *VHSL Record Book for Outstanding Performance *Washington Post All Met Team *Single A Hall of Fame *Manassas Park High School Wrestling Hall of Fame 2016 MPHS Athletic Hall of Fame *Bull Run (Patriots) Hall of Fame *CAWL Hall of Fame *NVWF Hall of Fame *Maryland Junior States Hall of fame *Manassas Park Middle School Champion *Head Coach 2009 Central Regional Wrestling Champions and the 2008 Western Regional Runner up * Coached well over 100 finalist in Middle and High School in 14 years as Head Coach * Head Coach of 2 Time Central Regional Championship Teams and a Western Regional Runner up as well as team tournament champs and team placers in tournaments

Fighters remember weigh ins are Friday APRIL 28TH  from 7pm to 9pm at Metz Middle School, all unsold tickets and monies need to be turned in at that time. Saturday weigh ins will be at 3:30, followed by pre fight Fill out forms and pay registration fee meeting etc. WE WILL BE STARTING THE EVENT AT 7PM
LIVE STREAM PAYPERVIEW BELOW
PAPERVIEW LINK IS BELOW THIS IS THE SAME LINK FOR EVERY SHOW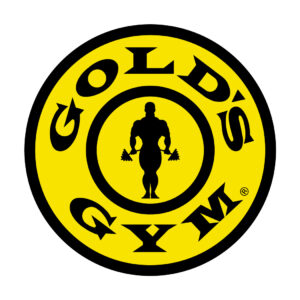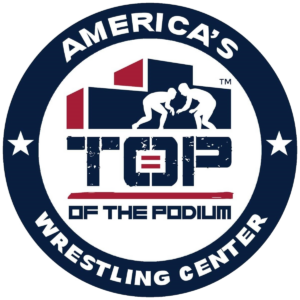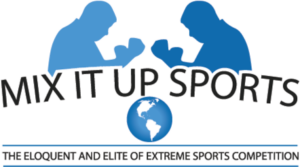 Mix It Up Sports "LLC"
Advisory Board
Mix It Up Sports "LLC" - Attention to
All Fighters & Coaches
As per the mandates of the state, you should get all blood work and physical tests at least three weeks in prior, to avoid last-minute rushing. All competitors are required to acquire HIV blood work. The contestants shall also be tested for Hepatitis B, Hepatitis C, and HIV.
Note: As of July 1, 2016, the pre-fight physical is no longer sufficient for a fighter to be cleared to fight in the state of Virginia.
A fighter must also provide a recent sport physical or a note from their physician that 'the fighter has no known impediments to them fighting'. This must be dated within 180 days (approx. 6 months) of the event. We apologize for any inconvenience that this may cause.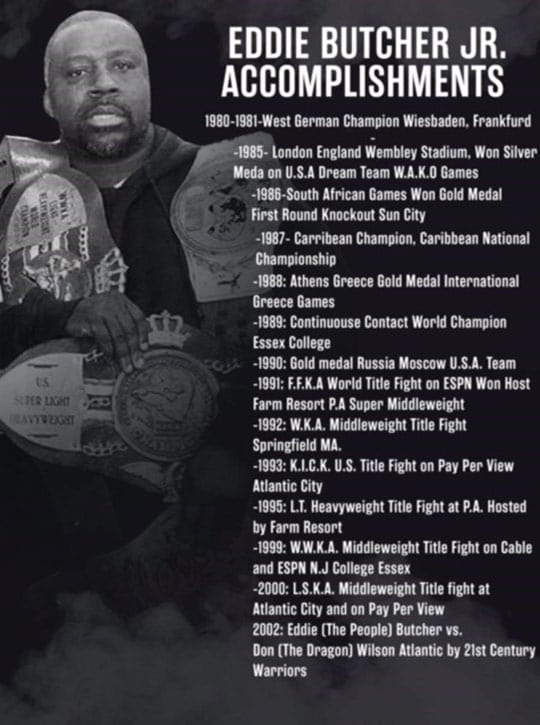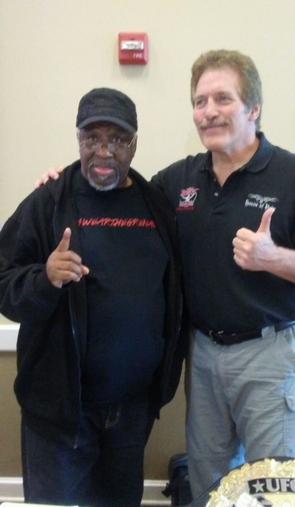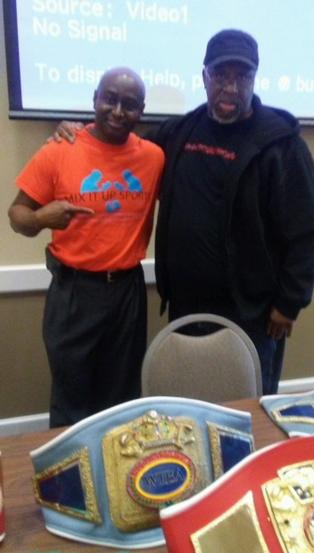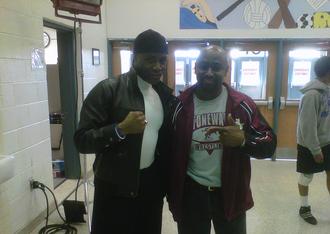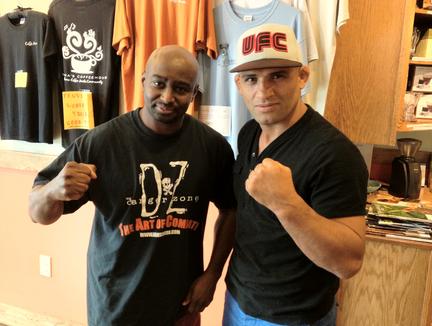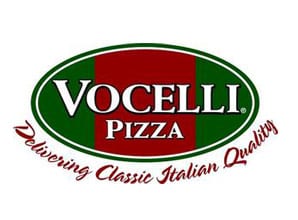 Mon - Thu: 10:00 AM–10:00 PM
Fri: 10:00 AM–11:00 PM
Sat: 11:00 AM–11:00 PM
Sun: 11:00 AM–10:00 PM
This club is a smoke, tobacco and alcohol-free place, and violators will be removed. Mix It Up Sports is not affiliated with the club.
ALL TICKET SALES ARE FINAL
Mix It Up Sports "Has Entered UFC Hall of Famer Dan
'The Beast' Severns The Danger Zone"
Official Results - 4/27/2019
<!player code begin> <!player code end>